Product Description
663/S2 (663/O/P/S2) (3G SDI in & out, with Waveform Function, BlackMagic Compatible)
Main Function Descriptions:

The new functions: Histogram, Waveform, Vector Scope and Audio meter level, which makes the product more professional. From the histogram, you can check the exposure and do the exposure compensation adjustment immediately. Those functions will provide great help when you shoot or make a film.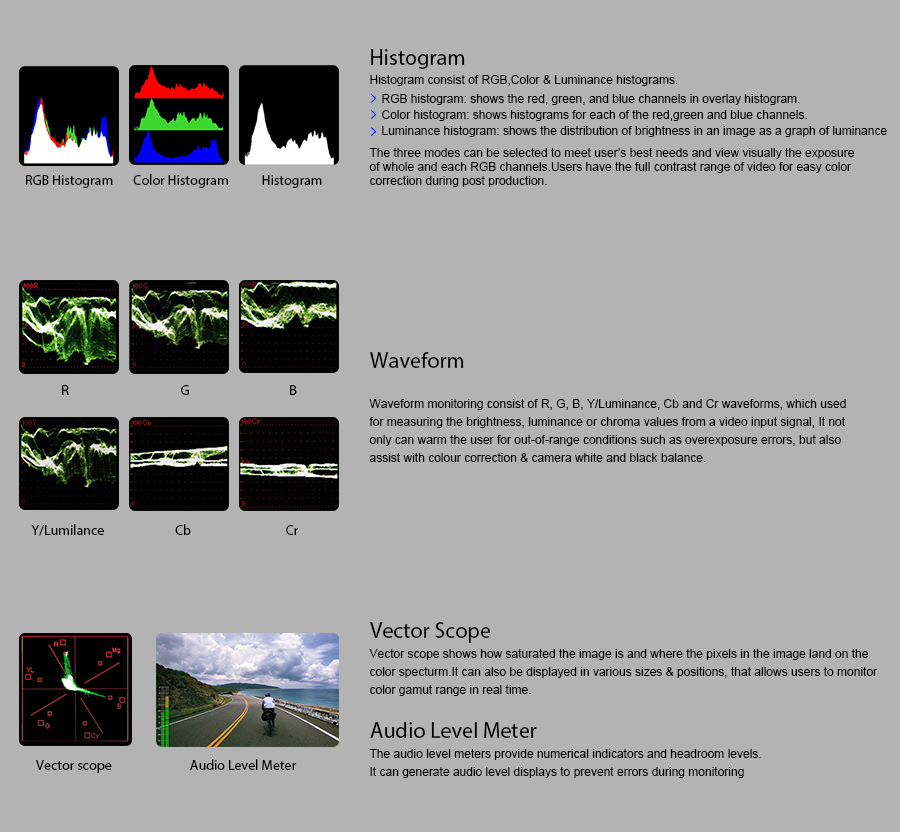 Peaking focus, False color and Exposure is the brilliant function of this field monitor. For most of the field monitor have been equipped with those
Lilliput 663/o/p/s2 is the upgraded version of Lilliput 663/o/p/s, which has wonderful performance. It takes great benefits from the 663/o/p/s, and it has also been upgraded with new functions. That is Lilliput creatively integrated waveform, vector scope & video analyzer into on-camera monitor, which provides luminance/color/RGB histograms, Y /Luminance, Cb, Cr, R, G&B waveforms, Vector scope and other waveform modes. And measurement modes such as peaking, exposure & Audio level meter. These assist users monitor more accurately when shooting. And also makes this monitor perform better than other products. It is compatible with most of the cameras and camcorders.
The Lilliput 663/S2 is a 7 inch 16:9 metal framed LED field monitor with 3G-SDI, HDMI, YPbPr (via BNC), Composite video and collapsible sun hood. Optimized for Full HD Camcorder.

Note: 663/S2 (with advanced Functions, with SDI input & output, Wave form)

7 inch monitor with wide screen aspect ratio

The Lilliput 663/S2 monitor has a 1280×800 resolution, 7" IPS panel, perfect combination for use and the ideal size to fit neatly in a camera bag.

3G-SDI, HDMI, and component and composite through BNC connectors

No matter which camera or AV equipment our customers use with the 663/S2, there is a video input to suit all applications.

Optimized for Full HD Camcorder

Compact size and peaking functionality are the perfect complements to your Full HD Camcorder's features.

Better Advanced Functions

Providing advanced camera auxiliary functions. Peaking, False Color, Histogram & Exposure, etc., are major concerns with camcorder users. Lilliput's field monitors are great at displaying accurate images, 663/S2 makes photo & recording even easier with its functionality.

Foldable sun hood becomes screen protector

Customers frequently asked Lilliput how to prevent their monitor's LCD from getting scratched, especially in transit. Lilliput responded by designing the 663/S2's smart screen protector that folds out to become a sun hood. This solution provides protection for the LCD and saves space in the customer's camera bag.

HDMI video output - no annoying splitters(just for model: 663/S2)

663/S2 includes an HDMI-output feature which allows customers to duplicate the video content onto a second monitor - no annoying HDMI splitters required. The second monitor can be any size and picture quality will not be affected.

High resolution

The Lilliput 663/S2 monitor uses the latest LED-backlit display IPS panels that feature higher physical resolutions. This provides higher levels of detail and image accuracy.

High contrast ratio

The Lilliput 663/S2 monitor provides even more innovations to pro-video customers with its super-high contrast LCD. The 800:1 contrast ratio produces colors that are vivid, rich - and importantly - accurate.

Configurable to suit your style

Since Lilliput introduced the complete range of HDMI monitors, we have had countless requests from our customers to make changes to improve our offering. Some features have been included as standard on 663/S2. Users can customize the 4 programmable function buttons (namely F1, F2, F3, F4) for shortcut operation according to different needs.

Wide viewing angles

Lilliput's monitor with the widest viewing angle has arrived! With a stunning 178 degrees viewing angle both vertically and horizontally, you can get the same vivid picture from wherever you are standing.
Accessories

DIMENSION

Dimension(LWD)
191.5×152×31 / 141mm (with cover)
Weight
760g / 938g (with cover)/ 2160g (with suitcase)
Dimensions
Product Videos
Product Reviews